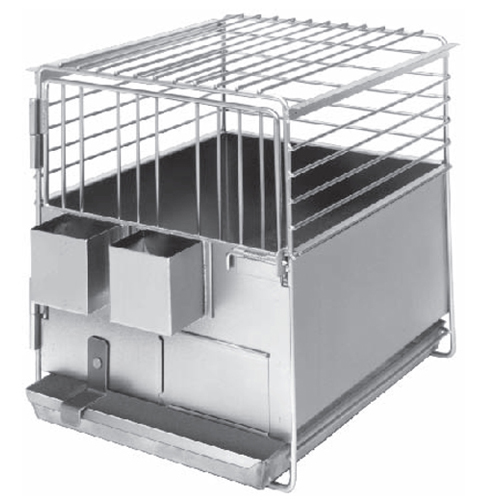 This Stainless Steel Wire Suspended Pigeon Cage features wire-constructed upper sides, back, and top with a solid one piece lower wrapper, consisting of sides and back. All wire portions of the cage body have a glass beaded satin finish. The back of the cage can accommodate a watering system. The cage is supported by full-length suspension runners. These runners have lanced dimples to secure the cage to the rack.

The removable door has a rod-frame with vertical and horizontal rods in the upper portion and a deflector panel in the lower portion. The door also includes a 5" wide by 3" high cardholder, provisions for one removable box-type feeder, one removable water box, and a spring-activated door latch. All welds are glass beaded to a satin finish, removing any discoloration.
The cage has a removable floor with #1 x 16 gauge welded wire mesh animal resting surface. The removable stainless steel tapered collection pan rests on horizontal rods that are welded to the cage's rod-frame.
---
AVAILABLE OPTIONS:
609666 Box-Type Feeders/Water Box
609667 Stainless Steel Tapered Collection Pans
206872 Stainless Steel Foors