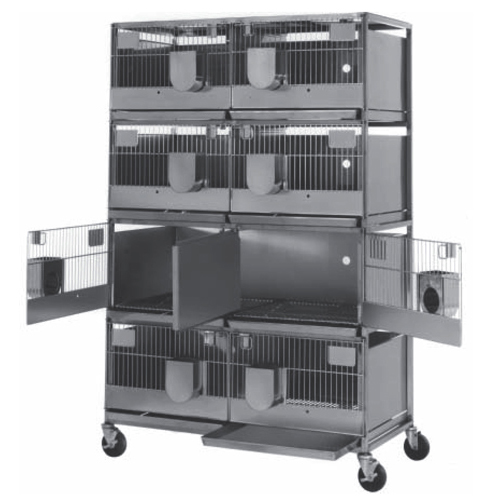 Stainless Steel Tubular Frame for the Integral Rabbit Cage Unit is fabricated from 1" square tubing. The tubular uprights' upper ends are capped, the lower ends are fitted with caster couplers, and both ends are welded and ground smooth. The tubular crossmembers are butted at all joints and welded for strength. Each tier of the unit has a solid one-piece wrapper, consisting of the sides and back. The wrapper is lowered from the top of each tier on the back and both sides for ventilation, and is welded to the frame.

The back of each tier is punched with two holes to accommodate a watering system. Each tier has a pair of removable, electropolished doors. Each door has a rod-frame with vertical and horizontal rods in the upper portion and a deflector panel in the lower portion with a provision for a sipper tube. Each door has a removable external feeder with a baffle and a 5" wide by 3" high cardholder.
In addition, each tier is equipped with two removable electropolished floors with rolled-edge strip animal resting surface supported on top of the wrapper's deflector, directing waste into the removable tapered collection pan under each floor. Each collection pan is supported by the cage's pan runners, which are welded to the frame.

Each tier has a removable divider panel that divides the tier into two compartments when in place. The frame has a glass beaded satin finish, removing any discoloration.

The rack is equipped with chrome plated swivel casters with 5" polyolefin wheels, two with wheel brakes. Swivel and axle bearings have seals and zerk grease fittings.
---
AVAILABLE OPTIONS:
Stainless Steel watering system
CPVC watering system
Stainless Steel casters